With a greater emphasis on preventing unlawful entry, U.S. Customs and Border Protection (CBP) of the Department of Homeland Security has ramped up its operations in a variety of ways.  As its responsibilities have grown, the U.S. Border Patrol has adopted new tools, technologies and jobs to stop and capture illegal intruders. Using intelligence from other branches of DHS, the Border Patrol now collaborates closely with defense and other law enforcement agencies to ensure border security.
<!- mfunc search_btn ->
<!- /mfunc search_btn -><!- mfunc feat_school ->
Using sophisticated analytical techniques that monitor the 6,000 miles of borders with Canada and Mexico as well as the 3,800 miles of shoreline, the Border Patrol maintains a constant vigil on America's borders.
Re-alignment of the Border Patrol with anti-terrorist objectives has changed the posture of this agency.  While historically, the Border Patrol served as an interdictory agency, it is now an aggressive, pro-active law enforcement agency that identifies areas of potential weakness in America's defenses and allocates resources to combating potential threats that originate abroad and that seek clandestine entry into the country through land, sea or air crossings.
There are a number of jobs within US Customs and Border Control under the Border Patrol Classification:
Border Patrol Agent
Air Interdiction Agent
Marine Interdiction Agent
CBP Officer
Contract Specialist
Agricultural Specialist
Intelligence Research Specialist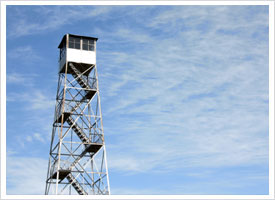 These distinctly different jobs each have specific requirements, however, general requirements are in place that all Customs and Border Protection professionals must meet, regardless of the job they are pursuing.
This guide serves as a checklist for determining if the basic credential, background and physical requirements for CBP jobs are met before beginning the application process.
Basic Requirements Applicable to All Border Patrol Jobs
In order to join the U.S. Border patrol, applicants must meet the following criteria:
Applicants must be a U.S. citizen
Applicants must possess a valid driver's license
Applicants must be fluent in Spanish or be capable of learning it
Applicants must be younger than 40 years of age
Applicants must pass a drug urine test
Applicants must have a college degree or have served in some federal agency for at least one year; some positions may require a Bachelor's degree or a law enforcement background
Applicants must pass a comprehensive background check
Applicants must demonstrate interpersonal skills, judgment and problem-solving skills consistent with the office of a Border Patrol agent before a panel of reviewers
Physical Requirements Applicable to All Border Patrol Jobs
Border patrol agents serve in physically demanding environments and are required to pass a medical examination with the following conditions
Applicants must have normal color vision
Applicants must possess normal peripheral vision and depth perception
Applicants must have at least 20/100 vision in one eye without corrective lenses; refractive surgical modification may be acceptable if vision is not subject to any surgical distortion aftereffects.
Applicants must have hearing in both ears that falls within the 500-2000 Hz range
Applicants must be capable of strenuous physical activity